Up and down, up and down. Today you are the biggest looser. Tomorrow you gain it all back. Obviously
Lasting weight loss is what we want. "S
uzy Prudden's
One Stop Diet Revolution"
is a simple and
easy complete system that gives you all the practical tools and guidelines for healthy weight loss—and a way to address the problem at the core of your being.
You can't stay thin if you thoughts and feelings about yourself are stuck in the old mindset
of a FAT PERSON!
Lasting change comes from the deeper level of your subconscious mind.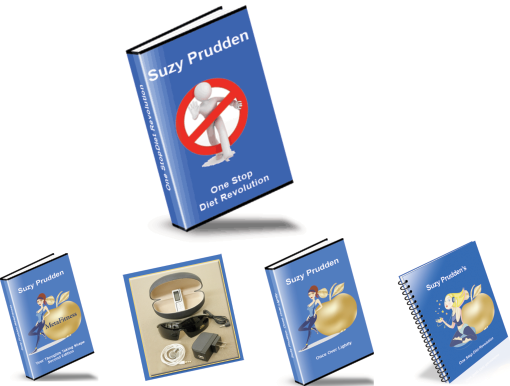 Bronze Starter Program Value S300

Program Package (save $103) !!!

Hardware Included

Key Audio Optopath Delivery Unit

14 Preloaded CVR Sessions
"Suzy Prudden's One Stop Diet Revolution" eBook
"MetaFitness: Your Thoughts Taking Shape" eBook
Bonus MP3 download "Build a Burning Desire to Lose Weight and Keep It Off"

Key Audio OptoPath Delivery Unit

Headset
OptoPath Glasses
Charger
Hard Cover Case
Silver Step-Up Program Value $1500

Program Package (save $1,103) !!!

Hardware Included




Key Audio Optopath Delivery Unit

14 Preloaded CVR Sessions
"Suzy Prudden's One Stop Diet Revolution" eBook
"MetaFitness: Your Thoughts Taking Shape" eBook
Bonus MP3 download "Build a Burning Desire to Lose Weight and Keep It Off"

One Hour Private Coaching Session With Suzy Prudden, Int.

Key Audio OptoPath Delivery Unit

Headset
OptoPath Glasses
Charger
Hard Cover Case
Gold Commitment Program Value $2,076

Program Package (save $1,549) !!!

Hardware Included





Key Audio Optopath Delivery Unit

14 Preloaded CVR Sessions
"Suzy Prudden's One Stop Diet Revolution" eBook
"MetaFitness: Your Thoughts Taking Shape" eBook
Bonus MP3 download "Build a Burning Desire to Lose Weight and Keep It Off"

One Hour Private Coaching Session With Suzy Prudden, Int.
Monthly Teleclass
BONUS! "Once Over Lightly" exercise eBook

Key Audio OptoPath Delivery Unit

Headset
OptoPath Glasses
Charger
Hard Cover Case
Platinum Deluxe Program Value S 4,550

Program Package (save $3,303) !!!

Hardware Included




Key Audio Optopath Delivery Unit

14 Preloaded CVR Sessions
"Suzy Prudden's One Stop Diet Revolution" eBook
"MetaFitness: Your Thoughts Taking Shape" eBook
Bonus MP3 download "Build a Burning Desire to Lose Weight and Keep It Off"

One Hour Private Coaching Session With Suzy Prudden, Int.
Monthly Teleclass
BONUS! "Once Over Lightly" exercise eBook
365 Daily Affirmations
Plus aTwo Day Seminar with Suzy Prudden

Key Audio OptoPath Delivery Unit

Headset
OptoPath Glasses
Charger
Hard Cover Case