Leaders Rise Up 2013
The Kick Off of this exciting event is Saturday, April 13, 2013
In Orange County, CA 
Join Us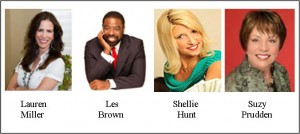 Are you a leader who is ready to Rise Up?
Rise Up and be a Rockstar in your industry!
Rise Up and have balance and fulfillment in your personal life!
Rise Up to your Legacy!
Join us on the Leaders Rise Up Tour from Los Angeles, to Chicago, to New York, and more!
Check out our tour dates to make your reservation.
– Operate from your Authentic Passion
– Learn to Motivate the Masses
– Experiential Business Trainings
– Master the Art of Negotiation
– Walk away with a 90-day Action Plan
– Accelerate Your Business
– Learn the Media and Press Game
– Identify Your Multiple Sources of Income
If you are ready for a learning based model…NOT a pitch fest at one low price… Then "RISE UP" are the must attend events….Thousands of dollars of knowledge for one easy price of $97.00 with lunch included (and bring a spouse or guest for free) Special half price available for military/veterans. This is for the entrepreneur who is seeking to RISE UP !!! We are here to make an active attainable change in learning & business expansion in the US!!! This is for YOU to RISE!!!