Prize Winning International Speaker, Workshop
and Seminar Leader and Best Selling Author
• Author of twelve books including the best selling, Suzy Prudden's Spot Reducing, Itty Bitty Weight Loss Book, MetaFitness: Your Thoughts Taking Shape, and Change Your Mind, Change Your Body. • Winner of the Women in Business: 1994-95 Most Inspirational Speaker Award and the International Federation of Hypnotists 2001 Award for Excellence for Integrated Therapies & 2006 Lifetime Achievement Award. • Guest expert on over 1,000 radio and television shows including Oprah, The Today Show and Good Morning America. Proven Strategies for Achieving Success in Business, Relationships, Weight Loss and Every Area Controlled by Your Mind Suzy Prudden has been featured on Oprah who said, "In order to heal your relationship with your body, you have to go inside. The answers are all in Suzy Prudden's book, Change Your Mind, Change Your Body."
Expert Topics Include:
• Success is an Inside Job • Simple Energy Secrets for Tired People on the Run • Women in Change • Weight Loss Made Easy Suzy Prudden's expertise includes:
To view Suzy's transparency report click on the "Clear" logo below.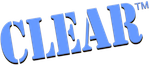 Check out my Body Wisdom Blog  Here!